Madison, WI 1 Bedroom Apartments
Welcome to Madison!
Madison, Wisconsin is our favorite place on earth and we know it will be yours too if it isn't already! The campus and downtown area of Madison is a fantastic place to call home. There is a diverse selection of apartment homes available for both students attending The University of Wisconsin - Madison and those looking to live in the fabulous downtown area. Renters are sure to find exactly what they are looking for whether it is affordable or luxury they desire. There are fantastic apartments around every corner of the Isthmus including the UW Campus and the Capitol Square. Similarly to the marvelous amenities offered by apartment communities, Madison's downtown has everything you need as well. Outstanding apartment homes, excellent food and drinks, sensational events and activities, amazing jobs, and happiness is what this city is all about. Thank you for choosing us to begin your apartment search. Please read below to learn more.
Interactive Search
More About Madison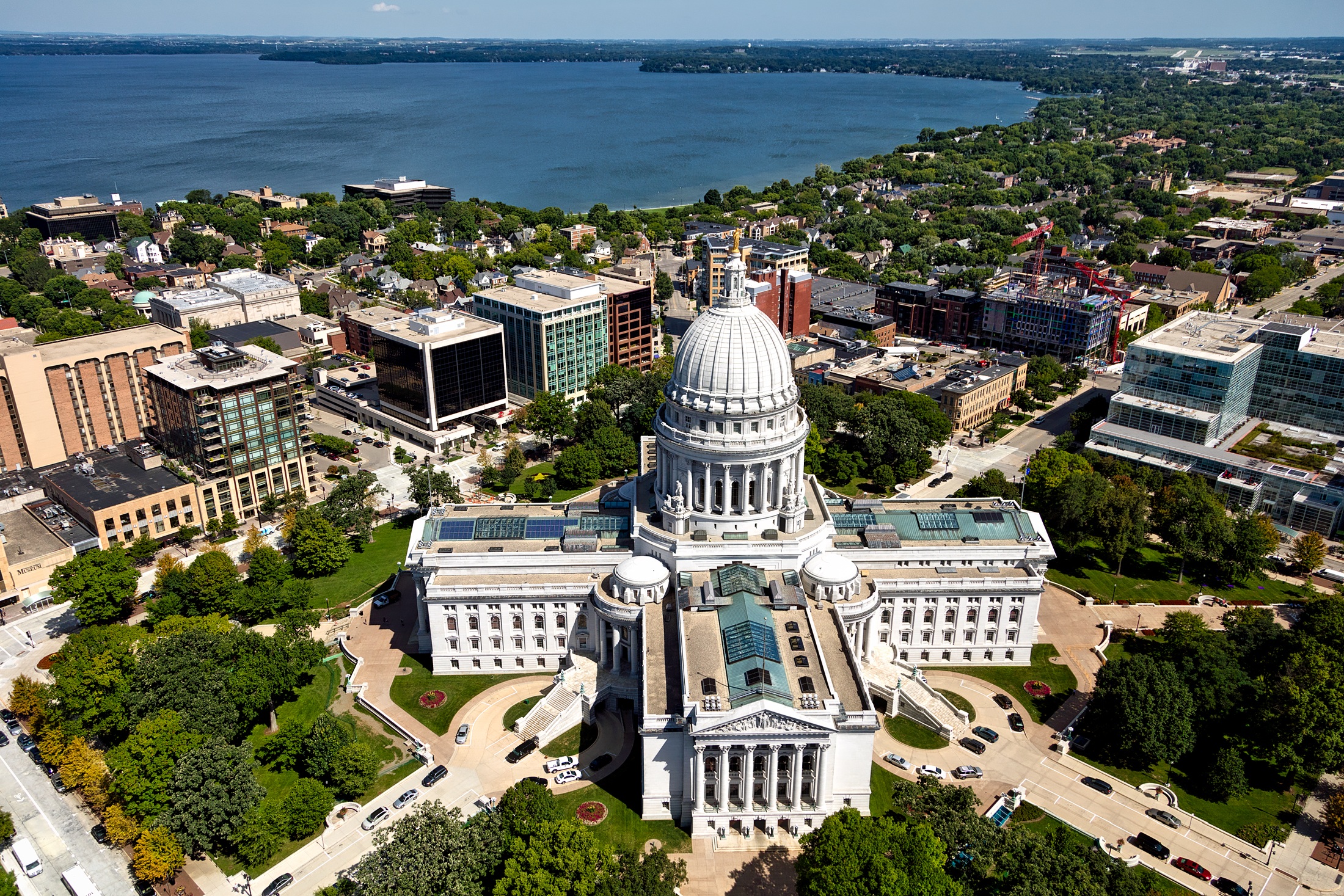 Home to the University of Wisconsin-Madison and the Wisconsin State Capitol, the campus and downtown area of Madison is extraordinarily unique and the perfect place to live. It is one of only two major U.S. cities built on an isthmus, named after the fourth president of the United States, James Madison and commonly referred to as Mad City or Mad Town. You will experience all the joy and fun times Madison has to offer when you call it home. The campus and downtown area has all the hustle and bustle of big cities as well as midwestern, small-town charm. If you're thinking of moving into this lively area or looking for new things to explore, we've got you covered with everything you'll need to know.
Drinks & Dining
There are seemingly endless options of both chain restaurants and local favorites that are sure to satisfy your tastebuds. You don't have to go far to find a place with cheese curds, beer brats, a fish fry, Bloody Marys, Old Fashions, or craft beer in this midwestern city. However, Madison also prides itself on its offerings of international cuisine including Italian, Mexican, Asian, Peruvian and so much more. Some notable must-eats include: Graft, A Pig in a Fur Coat, Tipsy Cow, Nitty Gritty and The Coopers Tavern. It's no issue getting your craft beer fix, there are countless quality craft breweries. Need a drink after a long day of work/classes or want to let loose on the weekend? Check out The Double U, Wandos, Whiskey Jacks, and Red Rock Saloon. If you're looking for a good time on Badger game day head over to Regent Street and join your fellow Badgers at Buckingham's, Jordan's Big Ten Pub, and Sconnie Bar.
Nightlife
The campus and downtown area is the central hub for nightlife activities in Madison. The Comedy Club on State Street has been a staple for a night out for quite some time. It's home to the hottest comedians, as well as new and local talent. When you're done getting some laughs in, State Street has an abundance of bars and nightlife that can appease many tastes, though you'll likely find more college students and young professionals frequenting these bars. The blocks around the Capitol are also a hot location for cocktails, cigars, and camaraderie. There's no shortage of entertainment at venues such as the Overture Center for the Arts, Majestic, and The Orpheum Theater. Live music adds to the heartbeat of this city and whether you're at the High Noon Saloon, The Ivory Room Piano Bar, a concert at The Sylvee, or listening to a local artist at the Memorial Union Terrace, you'll never be short of a good tune and good energy.
Something For Everyone
Standing at 284 feet tall and the tallest building in Madison, one simply cannot miss the Wisconsin State Capitol. If you enjoy art, history, and museums make sure to walk around the surrounding area of the Capitol Square and visit the Wisconsin Veterans Museum, Wisconsin Historical Museum, Madison Museum of Contemporary Art, and Madison Children's Museum. Head over to the University of Wisconsin-Madison campus and continue a cultural experience like no other. Visit the Chazen Museum of Art, Madison Geology Museum, L.R. Ingersoll Physics Museum and Washburn Observatory. Looking for some fun outdoor activities? There are plenty of parks and green-spaces in the campus and downtown area. Go for a walk, run, bike ride, or picnic at James Madison Park, UW Arboretum, UW Lakeshore Nature Reserve, and Olin Park. Take in the beauty of the unique, natural landscape that is home to a multitude of magnificent flora and fauna. Speaking of fauna, don't forget to explore one of the few admission-free zoos in the country: Henry Vilas Zoo. They are open year-round and have frequently fun events and activities for all ages. State Street is brimming with culinary and shopping experiences that will surely not disappoint your appetite or stylistic cravings. When walking around the UW Campus and Downtown Madison one is sure to spot The Motion "W" being worn pridefully by current badgers, alumni, and fans alike. Badger Athletics are a big deal around here and with over 23 men's and women's teams competing all year round in the Big Ten Conference there are always opportunities to cheer on our nationally ranked badgers at Camp Randall Stadium, Kohl Center, LaBahn Arena, McClimon Track & Soccer Complex and many more. The sports continue on the other side of the Capitol where you can cheer on the Madison Radicals and Forward Madison FC at Breese Stevens Field. This amazing stadium is also host to concerts and community events in addition to athletic events. The campus and downtown area is a truly amazing place to live where there are no excuses to be bored, but instead, endless possibilities to learn, be active, socialize, and have fun.
Farmers' Markets
There's a magic that exists at the Dane County Farmer's Market on Capitol Square in Madison. Every year, thousands of Madisonians and tourists alike, flock to the blocks surrounding the Capitol to enjoy local produce, flowers, baked goods, fresh cheese curds, honey, and more from Wisconsin's farmers. Boasting goods from over 150 vendors, the bright colored tents, smells, and friendly people are a must-see-and-visit on your Saturday mornings from mid-April to mid-November of each year. Though it runs from about 6am - 2pm, make sure to get there early, as when the goods sell out, vendors will pack up! (You won't want to miss Stella's Hot & Spicy Cheese Bread!) To top things off, this farmer's market is the largest producer-only market in the United States, and is sure to win over your heart and your stomach.
Shop 'Til You Drop
Grab your wallet, put on your walking shoes and head down State Street. You will be sure to find everything you are looking for from clothing, shoes, coffee, food, dessert and so much more. You'll have no problem going back again and again with the variety of stores, restaurants, and bars all while taking in great views of the Capitol. Get your groceries with ease by shopping at the many trusted local and chain stores or have them delivered to your front door. In addition to that, find local bread and meats from butchers and bakers, or fresh produce from the local farmer's market. You don't even have to leave the isthmus to find exactly what you're looking for.
A City You Can Trust
The University of Wisconsin-Madison and the city of Madison have both done a lot to reduce crime and provide a safe environment to live. Most, if not all, of the streets are well lit and ample space is provided for sidewalks, bike lanes, and bus lanes. Apartment buildings offer secure entry and take many measures against unwanted guests. The Madison police, fire and emergency medical services work around the clock serving the community to assist wherever and whenever you may need them. A national report recently acknowledged Madison as the second-safest city in which to walk, and No 4 in overall safest cities. You'll feel safe renting here with the small town vibe that comes with nice neighbors and friendly people around every corner.
Schools and Education
When you say Wisconsin, you've said it all and when you say Madison you can't help but think of UW-Madison. This Big Ten conference school boasts a student population of over 44,000 and offers 9,000-plus courses; 200-plus undergraduate majors and certificates; 250-plus master's, doctoral, and professional programs and 2,000-plus faculty experts. Ranked as the 13th best public university in the U.S. students, faculty, and community members love to brag about how great it is to be a Badger. The school is a leader in academics, research, public service, and athletics. Madison was recently named college football's greatest college town so after a week of hard work and studying, Badgers know how to have fun too. There are also other fantastic options for education in Madison such as Madison College, Edgewood, and numerous other post-secondary schools. There is a multitude of learning opportunities in the campus and downtown area and you will be sure to find exactly what you want and need in an education. Madison also boasts exceptional education across the board at all ages for families living in the area. Extraordinary teaching staff and advanced courses prepare students for their futures in addition to fun and exciting extracurricular activities.
Don't Take Our Word For It!
The numbers don't lie, Madison has routinely ranked as one of the best cities in America in numerous categories. Two reports in 2019 have listed Madison in the top ten at No 3 and No 10 best places to live and America's top small cities respectively. Given the fact that Madison is America's greatest college football town, it's a no-brainer that it is one of the best places to live for recent college grads. Don't think that it's only about the college scene here though because people of all ages love Madison for the diverse and countless amount of fun activities and things to explore. There are thousands of things Madison is doing right to improve the livability of its beloved residents, from making it easy to connect to the outside world via the Dane County Regional Airport, to providing easy and inexpensive transportation and housing options. So yeah, of course we love it here but we know you will too!
Best In Business
Business is booming here in Mad Town, especially in the campus and downtown area. Madison's low unemployment rate is supported by the diverse array of high quality jobs and careers available. Whatever your interests may be, you have a great chance to find excellent opportunities on the isthmus. The university and capital support much of the hiring here and they are also backed up by a host of healthcare, IT, manufacturing, and STEM professions. A growing number of college graduates and hardworking Madisonians find wonderful work-life balance due to high household income, steady job growth and increased opportunities while enjoying a low cost of living and affordable housing.
Getting Around
Commuting is made easy by being one of the most bicycle friendly cities with large and clearly defined bike lanes and paths located all throughout Madison. You'll see just how easy it is to pedal around on either your own bike or one of the 300 rentable Madison BCycle bikes located at over 45 stations spread through downtown making it a viable option no matter where you have to go. The campus and downtown area is also very walkable as sidewalks are well maintained and everything you need is a short distance away. Although Madison can experience tough winter conditions at times, the city does a great job to remove snow and maintain safe roads. If you have more distance to cover than walking or biking will allow, hop on one of the many Metro Transit bus lines, call up an Uber, Lyft, Green Cab, or take your own wheels out for a spin. There are also Amtrak train stations and the Dane County Regional Airport for when you want to explore the world outside of Madison. Feel free to check out the always up-to-date informational airport guide.
Won't You Be My Neighbor?
Thinking of joining the other 260,000 people that call Madison home? We think that is a great idea given that Madison is the fastest growing city in Wisconsin and is home to such a diverse, fun, and caring population. No matter what your age, infants/toddlers, young adults/young professionals, or parents/grandparents, you will always have something new to do, somewhere new to eat, and amazing places to explore. The Madison housing market supports the needs and desires of all those looking for a place to call home. Whether you are looking to buy a home or rent you won't have to look long for the perfect pad. Regardless if you need to save up first before buying a home, or prefer renting we have you covered. Using our free search tool, you can find an affordable studio apartment, charmingly historic house, modern townhome, or multi-bedroom luxury high-rise with ease. Many apartment communities also offer an extensive list of amenities that often include fitness centers, underground parking, pet stations, laundry, modern finishes and appliances, and indoor/outdoor community spaces. Pairing all of these options for housing with the great livability that campus and downtown offers is why Madison has been ranked as the No 1 best city for renters.
Future Outlook
Due to Madison's population growing quite rapidly compared to other cities, averaging at a rate of 3% growth each year, and a frequently low vacancy rate the rental market can be a bit competitive. Nonetheless, the amount of unique options to rent that exist currently along with new projects being continuously proposed and developed provide renters with plenty of places to potentially call home. Just make sure you start your search reasonably early and use the right tools. The continuous influx of highly educated, young professionals to Madison's universities and highly desirable career fields will ensure that Madison continues to grow and prosper. The campus and downtown areas of Madison will continue to provide rich, enjoyable living experiences and excitement for years to come.